Most planners know when you are designing events on a tight budget and the venue gives you the option of free or affordable floor length black linen. You choose that option. Black table linen helps accent any centerpiece or give a great contrast in a room. Do not get me wrong, I love black, it is a mixture of all the colors and by Merriam Webster Dictionary definition it is the achromatic color of least lightness characteristically perceived to belong to objects that neither reflect nor transmit light. HOWEVER, BURLAP is my new favorite for weddings and events.
To be clear I consider Burlap a kind of color and a texture of fabric. It is versatile it works for outdoor, indoor, any season of the year and did I mention it is my favorite. Burlap's definitions are a coarse heavy plain-woven fabric usually of jute or hemp used for bagging and wrapping and in furniture and linoleum manufacture or a lightweight material resembling burlap used in interior decoration or for clothing (http://mw1.merriam-webster.com/dictionary/burlap.) My definition of Burlap is affordable, malleable and the chameleon of the fabric world. I have planned a few events with Burlap, I picked some to feature below.
Going outside for dinner?
The picture featured is at an outdoor event at La Quinta Resort & Club (A Waldorf Astoria Collection) in La Quinta, CA.
Tables were long presidential seating tables with about 50 on each side. The event was an outdoor wine dinner for 200 guests. There was not a huge budget for this event so every element needed to pop. We needed texture and substance to the tables. Insert BURLAP! Tables were draped with 90×156 Burlap linen that went to the floor. Centerpieces were a mix of orange, reds, burgundy and some green filler in a rust vase. The napkins were burgundy lamour linen. The chairs were a mahogany wood folding chair with an ivory pad cushion. This was a naturally elegant outdoor evening.
Burlap for my wedding?
Yes, Burlap for your wedding. The wedding featured is an outdoor event at Ole Fort Jackson in Savannah, GA.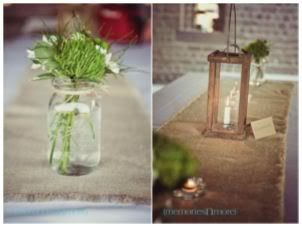 Tables were banquet tables seating at 16 at each table for a total guest count of 100 or so. Tables were covered in ivory table linen that reached to the middle of the table. Down the middle of the table was a custom-made Burlap runner with frayed edges, two small mason jar centerpieces filled with a mix green floral arrangement (set at either end of the table) and in the middle of the table a dark wood lantern with white wax candle. The Burlap also accented the S'mores Station that was placed by the campfire.
When given the chance Burlap can add texture to any of your tables. You can buy Burlap online by the yard it ranges between $5.00 – $7.00 depending on the site. At Joann's Fabrics it is around $8.00 per yard. You can also rent it from any linen rental company. Cloth Connection out of Arizona offers Burlap linen in multiple colors, sizes and shapes for rental (I love their multiple colors options.) There are plenty of great linens out there that are cost-effective and DIY friendly. Try to research your local fabrics stores and look for online vendors that offer great rates.